Most consider February to be the month of love because of that little holiday that falls during the middle of the month. I'm sure you've heard of it. It's the one where you men out there either gain serious brownie points or end up in the doghouse. Why does it just have to represent romantic love, though? JMB North America thinks it shouldn't. That's why we're using The Cow Columns debut blog post to showcase two very loved representatives of the beef and dairy industries.
Read below to find out more about TRUE love through the voices of 2016 International Brangus Breeders Association (IBBA) Queen McKenzie Posey and 2016 National Jersey Queen Regina Pozzi…
McKenzie Posey – 2016 IBBA Queen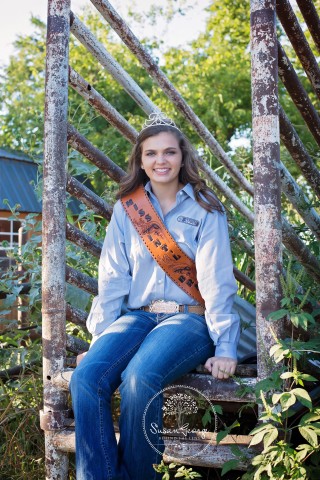 McKenzie is currently a high school senior at her hometown in Wayne, OK. Following graduation this spring, she plans to attend East Central University in Ada, OK, then transfer to Oklahoma State University to obtain a bachelor's degree in agribusiness. She also plans to own a registered Brangus cattle ranch in her future.  
JMB: Why do you like Brangus cattle?
M.P.: I like their adaptiveness to certain environments and their overall hardiness as a breed. They also have great mothering abilities which makes them outstanding. I definitely love the calves when they are first born, too. Looking out the window to see all of them running in a pack puts a smile on my face every time!
JMB: When and what made you fall in love with this industry?
M.P.: I have been showing Brangus cattle for about 10 years now and I have always enjoyed the breed, but when I truly fell in love with the cattle industry was during my first year on the IJBBA Board in 2012. Every show I went to my first year on the Board, I got to see the love and passion each Brangus breeder has for this breed. To this day, at every show I attend, being around the juniors and all the Brangus breeders just makes my love and passion for this breed grow even more.
JMB: What is your goal in representing IBBA during your reign?
M.P.: My goal is to represent this breed with integrity and honesty because that is the most important thing. I want to help other juniors to achieve their goals and be the best representative I can be for this wonderful breed.
JMB: Share a favorite memory you have experienced so far as the IBBA Queen.
M.P.: There have been a lot of great memories so far, but one of my favorites would have to be going to the Southeast Regional Brangus Show in Florida. I had the privilege to meet some of the Southeast Brangus Breeders for the first time. I loved getting to be in such a great environment with some amazing people.
Regina Pozzi – 2016 National Jersey Queen
Regina grew up in Petaluma, CA, and is now a junior at the University of California, Berkley. She is studying genetics and plant biology, with a minor in public policy. After earning her bachelor's degree, Regina plans to stay involved in agriculture and work in agricultural policy.
JMB: Why do you love the Jersey breed?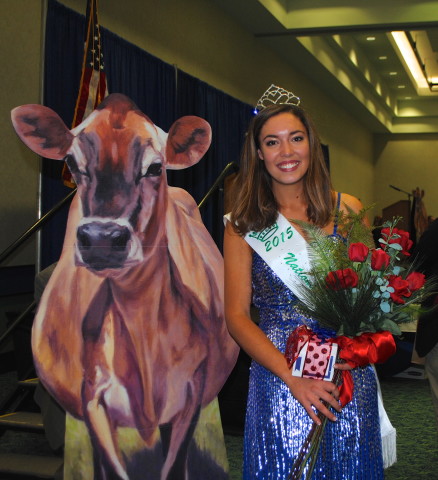 R.P.: The Jersey cow is outstanding in her field; she produces milk with higher components. Compared to average milk, the consumer gets 15-20% more protein, 15-18% more calcium, 12% more phosphorus, and higher levels of essential vitamin B12 in a glass of Jersey milk. Jersey milk also yields 25% more cheese than average U.S. milk. The Jersey breed was developed so that dairy producers would have less cow to feed, and more cow to milk. With Jerseys, you can get more pounds of Energy Corrected Milk per pound of dry matter over the average U.S. dairy cow. The Jersey cow also offers reproductive benefits; she calves earlier and on her own. She produces at a high level and breeds back sooner. Jerseys also have a longer-than-average productive life, and thrive in all climates and operation types. The Jersey cow is a strong and efficient little lady that I love for these reasons and her sweet demeanor. I also love the Jersey breed for the people that work with Jerseys; they work just as hard and smart as the Jersey cow.
JMB: What is it about this industry that you love so much?
R.P.: I enjoy this industry because people associated with dairy take pride in their products and production practices. They are continually improving operations and using cutting-edge technology on the farm to improve animal health, products and production efficiency. Dairy people also have a shared affinity for the dairy industry, leading to an incredible ability to work together. Greater technological advancements and effective public outreach programs are a few results of a dairy industry that works together. This is an exciting part of the dairy industry and motivates people within the industry to achieve greater levels of success in their work.
JMB: How are you able to use your position as National Jersey Queen to help shape public opinion?
R.P.: I am excited to serve as National Jersey Queen in the upcoming year where I will get to communicate to the public about dairy farms, dairy products and Jerseys in particular. I hope to continue to dispel misconceptions, give the consumer piece of mind about agriculture and show them the benefits of Jerseys. Working with the American Jersey Cattle Association, I think we will have a great year. I am especially looking forward to the AJCA-NAJ Annual Meeting in San Diego this summer where dairymen and breeders can meet and set the direction for the association for the upcoming year.
JMB: If you could pair one love song with your Jersey Queen journey, what would it be?
R.P.: "Who Wouldn't Want to Be Me" by Keith Urban is a fun song that I like listening to. It has a little bit of love in it, but resonates with me because I am thankful for the opportunity to serve as Jersey Queen and excited for the upcoming year and the Jersey breed.