This post, we are excited to feature Andy Skidmore, DVM and PhD, as he reflects on dairy veterinarians' past, present and what to expect in the years to come from these industry professionals.
This is actually only a snippet of the knowledge and insight Andy has to share. Stay tuned to The Cow Columns as we will invite him back to further expand on some of the points he brings up in the post below. Enjoy!
Over the last 30 years, dairy herd health has evolved from fixing problem cows, preventing problem cows, promoting healthy cows, to now identifying the most profitable cows and promoting their careers.
Some time ago, I had an interesting conversation with another veterinarian about precision animal agriculture. The conversation started with why nutritionists command so much more respect than veterinarians. He pointed out that nutritionists work with overachievers and money, while veterinarians work with underachievers – sick, unhealthy problem cows that only cost money. I have often pondered this concept and have concluded that for the dairy veterinarian to command greater respect, he/she will have to start working with the overachievers or identify the underachievers to not waste resources on them.
About 6 to 8 percent of all cows that calve can't compete. Cull rates are much higher than this and are the result of cows losing their competitive edge to profitability resulting in career changes. Everyone has seen the profit matrix of current profitability versus future profitability with four quadrants of stars, question marks, cash cows and dogs. The stars are those cows that have high current profitability and high future profitability. The question marks are those cows th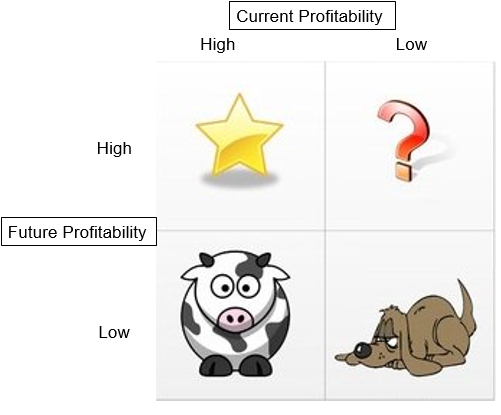 at have low current profitability but have potential to become stars or cash cows. Cash cows are those cows that have high current profitability but low future profitability. The dogs are those cows with low current profitability and low future profitability. The dogs need a career change as soon as possible. The cash cows need to be milked until it is more profitable to change careers. The question marks need to be investigated to find out if they are cash cows or stars. The stars need to be cultivated to keep them there as long as possible.
It is reproductive efficiency that makes all this possible. The ability to get the right cows pregnant fast provides the greatest opportunity to promote high achievers and give career changes to the underachievers. "Fail fast and fail often."
In addition to working with reproduction efficiency, dairy veterinarians are in a sweet spot to data mine available farm data and identify which quadrant every cow fits in before she is 30 days in milk. This is the future. Data drives everything.
Animal agriculture is light years behind crop agriculture in terms of technological advancements and precision management. In order to make progress and provide value to dairymen and women, the dairy veterinarian needs to evolve into a dairy data miner, identifying opportunities and providing direction. This will be the role of the dairy veterinarian in the next 15 years.
Dr. Skidmore has more than 30 years of experience in the dairy industry. Learn more here.